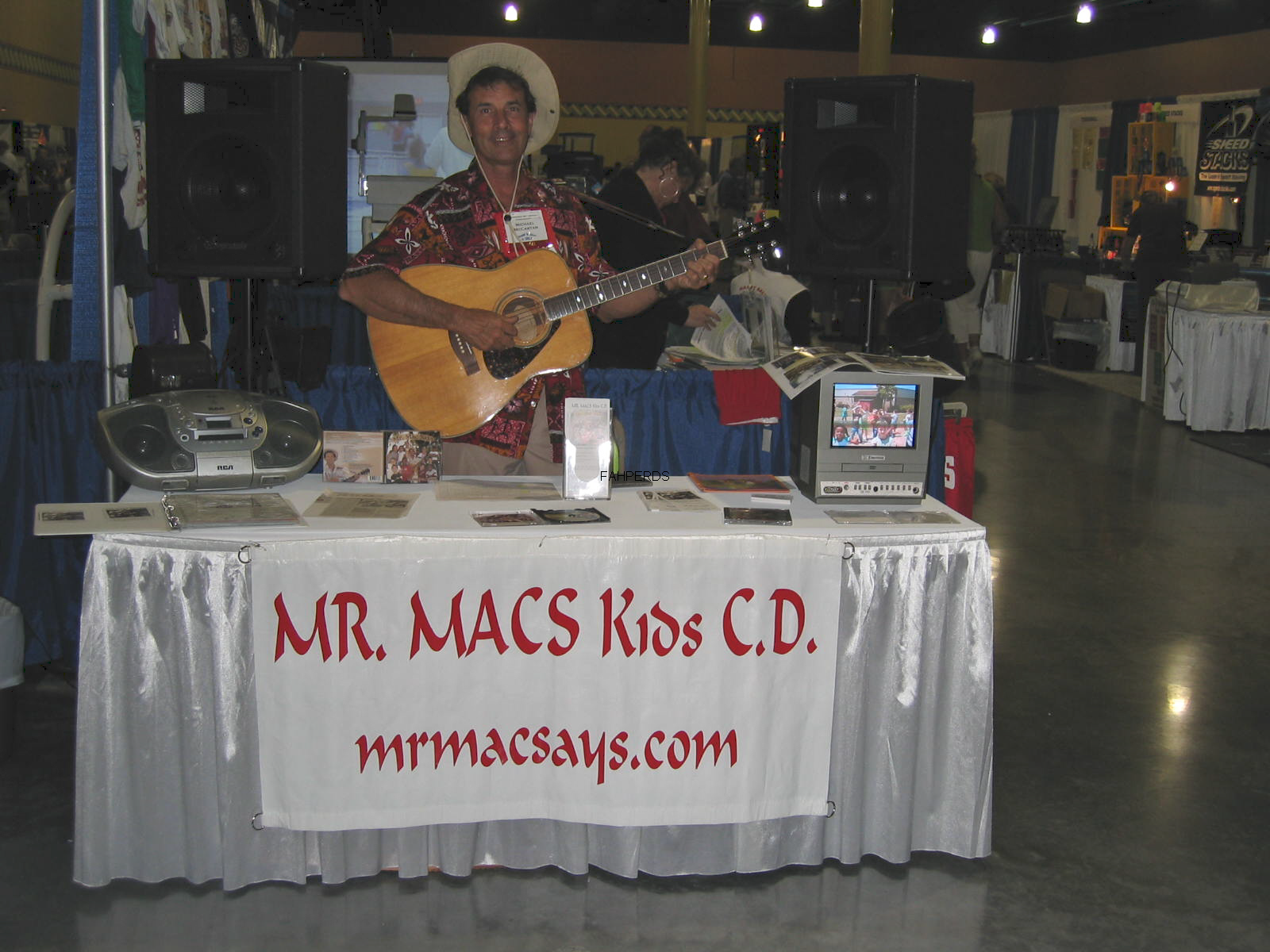 FAHPERDS Conference at Disney World
Below are a few comments people are making about Mr. Mac Says:
"MR. MAC CD IS A GREAT WAY TO GET KIDS ACTIVE, TO REDUCE
CHILDHOOD OBESITY AND TO HELP FIGHT HEART DISEASE."
SCOTT LAGRAND, AMERICAN HEART ASSOCIATION
FLORIDA / PUERTO RICO AFFILIATE
"CREATIVE MOVEMENT TO ORIGINAL CHILDREN'S MUSIC IS AN
INNOVATIVE CONCEPT AND HIGHLY NEEDED WITH A SOCIETY OF
OVERWEIGHT CHILDREN. MICHAEL MCCARTAN IS A FLORIDA
TEACHER OF THE YEAR AND AN OUTSTANDING INSTRUCTOR
AT THE UNIVERSITY OF WEST FLORIDA. MR. MAC SAYS CD IS BEING
USED IN LOCAL SCHOOL DISTRICTS AS WELL AS BEING PRESENTED
STATEWIDE AND I RECOMMEND IT FOR ELEMENTARY INSTRUCTION."
DR. STU RYAN, RETIRED CHAIRMAN: HEALTH, LEISURE & EXERCISE
THE UNIVERSITY OF WEST FLORIDA, PENSACOLA, FLORIDA
"I WANT TO CONGRATULATE YOU ON THE OUTSTANDING
PRESENTATION YOU MADE AT THE RECENT FLORIDA ALLIANCE FOR
HEALTH, PHYSICAL EDUCATION, RECREATION AND DANCE (FAHPERD)
CONFERENCE IN ORLANDO ENTITLED "MR. MAC'S FUN MUSICALS."
YOU ARE TO BE HIGHLY COMMENDED FOR YOUR WILLINGNESS TO
SHARE YOUR EXPERTISE WITH OTHERS. AGAIN, CONGRATULATION!
IT HAS BEEN, AND CONTINUES TO BE, A REAL PLEASURE TO WORK
WITH YOU AND SHARE IDEAS AND INSPIRATIONS FOR EDUCATION IN
ESCAMBIA COUNTY."
MANNY HARAGEONES, RETIRED SPECIALIST PHYSICAL EDUCATION, HEALTH,
WELLNESS, DRIVER EDUCATION & ATHLETICS
SCHOOL DISTRICT OF ESCAMBIA COUNTY
30 EAST TEXAR DRIVE, ROOM 105
PENSACOLA, FL. 32503
(850) 469-5464
"I WORKED WITH MICHAEL McCARTAN FOR 14 YEARS BOTH AS AN
ELEMENTARY SCHOOL PHYSICAL EDUCATION INSTRUCTOR AND
THROUGH THE FLORIDA ALLIANCE FOR HEALTH, PHYSICAL
EDUCATION, RECREATION AND DANCE (FAHPERD). AS PAST
PRESIDENT OF FAHPERD, I HAVE ATTENDED MR. MAC'S
PRESENTATIONS AS THE STATE LEVEL AND LOCALLY WE ARE USING
THE "MR. MAC SAYS" CD AT THE MCMILLAN PREK CENTER. MR MAC'S
CD IS A PROFESSIONALLY PRESENTED PROJECT THAT IS WELL
RECEIVED BOTH AT THE STATE AND AT THE PRE-K / ELEMENTARY
LEVELS."
LADONNA DAY, PAST PRESIDENT, FLORIDA ALLIANCE HEALTH
RECREATION AND DANCE, MCMILLAN PRE-K CENTER
1403 ST. JOSEPH AVE., PENSACOLA, FL. 32501
(850) 595-6910
"THANK YOU SO MUCH FOR YOUR ENTHUSIASTIC PARTICIPATION IN
WSRE'S FAMILY READING FUN DAY, HELD AT THE WEST FLORIDA
REGIONAL LIBRARY.
FUN DAY IS DESIGNATED TO BE A FUN-FILLED FAMILY EVENT WITH A
FOCUS ON LITERACY. THE CHILDREN AND FAMILIES WHO ATTENDED
THE EVENT ABSOLUTELY LOVED SINGING ALONG WITH YOU AT YOUR
BOOTH. WSRE APPRECIATES THE HARD WORK AND EFFORT YOU
CONTRIBUTED, WHICH MADE THE EVENT A SUCCESS AND DELIGHTED
BOTH THE CHILDREN AND THEIR PARENTS."
JILL HUBBS, DIRECTOR, EDUCATIONAL SERVICES & OUTREACH
WSRE / PBS TELEVISION
PENSACOLA, FL
"THANK YOU SO MUCH FOR ADDING YOUR TALENT AND PERSONALITY
TO THE AMERICAN EDUCATION WEEK ACTIVITIES AT UNIVERSITY
MALL ON SATURDAY. YOU ATTRACTED MANY FAMILIES AND INVOLVED
THE KIDS IN SUCH FUN WAYS. I WAS PROUD TO SAY, "MR. MAC IS A
TEACHER!" YOU MADE ME PROUD TO SAY "I AM A TEACHER TOO!"
THANKS AGAIN AND HAPPY HOLIDAYS!"
JOYCE BLACKWELDER
SCENIC HEIGHTS ELEMENTARY SCHOOL
PENSACOLA, FL
"THANK YOU FOR YOUR OCTOBER VISITS TO THE CHILDREN'S
HOSPITAL. YOU KNOW PARENTS & STAFF ARE NOW ASKING, "WHEN
WILL MR. MAC BE HERE AGAIN?" CONSIDER YOURSELF A "REGULAR"
NOW!"
"YOUR VISIT IN JANUARY WAS SO MEANINGFUL, SO POWERFUL - YOU
WERE ABLE TO TOUCH EACH CHILD JUST WHERE THEY WERE - IT
WAS BEAUTIFUL. I WAS SO AFFECTED BY THIS FOR THE REST OF THE
DAY. I'VE BEEN IN THIS JOB FOR 8 YEARS AND I HAVE COME TO
RECOGNIZE THE REALLY BLESSED MOMENTS IN THIS PLACE - YOUR
VISIT WAS ONE OF THOSE.
I'M GLAD WE ALL SHARED IT. AND I LOOK FORWARD TO MORE
MUSIC FROM YOU."
KATHLEEN STANHOPE
CHILD LIFE PROGRAM, SACRED HEART CHILDREN'S HOSPITAL
PENSACOLA, FL